Risultati della ricerca
Le pergamene del fondo Penne dell'Archivio di Stato di Napoli e un vescovo sconosciuto
digital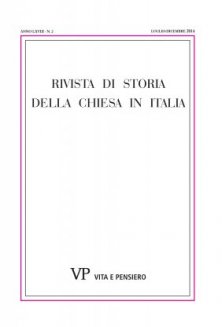 formato:
Articolo
| RIVISTA DI STORIA DELLA CHIESA IN ITALIA - 2014 - 2
The State Archive of Naples keeps a small nucleus of parchments which is improperly known as 'Fond', coming from Penne, nowadays within the province of Pescara...
Documenti pontifici inediti dell'Archivio di Stato di Napoli riguardanti l'Ordine Templare (1202-1288)
digital
formato:
Articolo
| RIVISTA DI STORIA DELLA CHIESA IN ITALIA - 2012 - 2
The Papal Chancellery produced a considerable amount of documentation during the two centuries of the Templar Order's life. In the last years the scientific research about the Military Religious Orders, looking for documents in various archives, found new material, useful to deepen the history of the Knights Templar and their relationship with the Holy See. The Naples State Archives, for example, keeps seven papal letters issued during the XIII century for the benefit of the Templar Order. The present article examines this interesting unpublished material and reconstructs briefly the bureaucratic course of the privileges granted to the Templar Order since the enacting of the papal bull by Innocent II (1139). They are mostly documents which aim to reaffirm how previously disposed by the Holy See, according to the formula «felicis recordationis / felicis memorie [….] predecessorum nostrorum Romanorum pontificum». The documents analyzed show the popes' interest toward the mission of the Templar Order in defence of Christianity, as well as the papal solicitude to confirm and extend their privileges.