RIVISTA DI STORIA DELLA CHIESA IN ITALIA - 2016 - 1
digital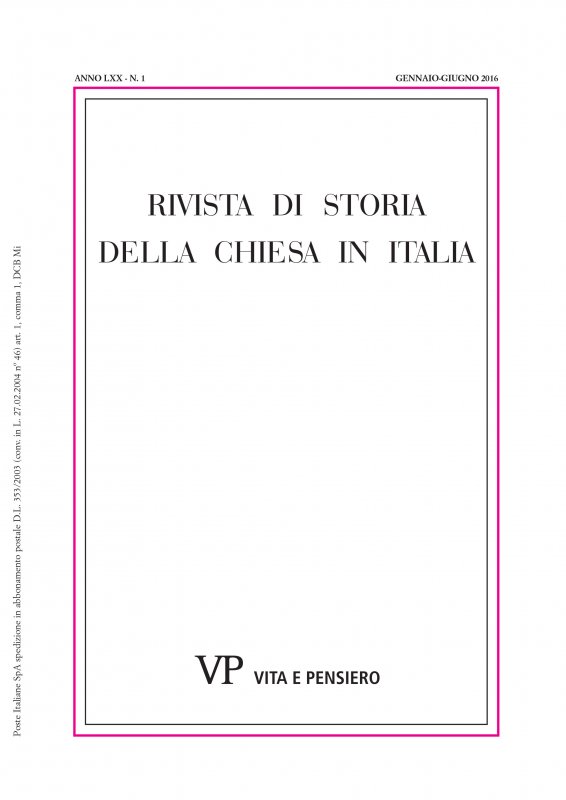 Ebook in formato Pdf leggibile su questi device:
Primo fascicolo del 2016
ARTICOLI
Dal seggio abbaziale alla cattedra vescovile. Nardò: una Chiesa latina nel Salento bizantino
di Benedetto Vetere
pagine: 31
€ 6,00
Abstract ∨
Until the Middle Ages the Benedictine abbey of Nardò was a Latin real bridge-head in the Salento's Greek territories. Through the sources, especially the XVth century pastoral visits and the surviving Evangeliaries written in Greek, it is possible to analyse the history of this land which kept itself so close to Constantinople for its culture and religion, in spite of the efforts of the Latin Church. Its history is a proof of the slow recovery of the Roman rule over the more southern lands of the Kingdom in the South of Italy. This evolution was supported by several growing powers, as the Norman Conquest and the Benedictine Order's success (XIth century).
The Flight of the Master of Lombardy (13 February 1308) and Clement V's Strategy in the Templar Affair: A Slap in the Pope's Face
di Julien Théry-Astruc
pagine: 10
€ 6,00
Abstract ∨
On the night of the 13th of February 1308, exactly four months after the general arrest of the Knights Templars in France on the order of King Philip IV the Fair, Giacomo da Montecucco, the master of the Templar province of northern Italy and a cubicularius of Pope Clement V, escaped from the papal Curia. A direct source provides us with a detailed account of Clement's special frustration and great wrath after Giacomo's flight. The master of Lombardy's defection, it is suggested here, could hardly have come at a worse time, because it thwarted the strategy recently adopted by the pope in what had become a trial of strength with the king of France. This paper examines the meaning of this episode in the light of a general interpretation of the Templar affair.
«Ut memoria eorum perdatur». La biblioteca di Giangirolamo Monferrato e l'Indice dei libri proibiti di Paolo IV
di Antonella Ghignoli
pagine: 27
€ 6,00
Abstract ∨
The ms. Città del Vaticano, Biblioteca Apostolica Vaticana, Vat. Lat. 12592 is quite known in literature; nevertheless, its origin, transmission and authorship are demonstrated in this paper for the first time. The ms. is made up of passages of some 'libri di famiglia' of Giangirolamo Monferrato, who was alumnus and secretary of the famous Ferrarese humanist Celio Calcagnini († 1541). The paper focuses on a particular event recorded by Monferrato in his libro de' raccordi between December 24th 1558 and March 20th 1559, when he had to purge his library of 62 books as a result of the publication at Rome, in January 1559, of the Index librorum prohibitorum by pope Paul IV.
I testamenti di Pio IX
di Sergio Pagano
pagine: 28
€ 6,00
Abstract ∨
The essay deals with the last wills of Pius IX, a topic already examined by the historians of the Pope from Senigallia, now reexamined on the base of the discovering of the originals of the testaments, drawn up in 1841-1845 and 1863-1877 and so far only partially known. Texts are published with critical notes, according to the archival sources available thus far, enriched with the analysis of the context where papers and their codicils were written.
Carlo Maria Martini dall'Istituto sociale alla Compagnia di Gesù (1936-1944)
di Alberto Guasco
pagine: 29
€ 6,00
Abstract ∨
The article aims to shed light on the biography of Carlo Maria Martini, and namely on the years of his childhood and youth (1936-1944), that he spent in Turin as student at the Istituto Sociale, the famous school run by the Jesuits. Here the future cardinal of Milan (1979-2002) discovered his own priestly vocation and decided to join the Society of Jesus. For this purpose, the author analyses various interviews given by Martini as well as some unpublished sources coming from the Archives of the Istituto Sociale and the Archives of the Istituto Aloysianum of Gallarate.
NOTE E DOCUMENTI
Genesi e trasmissione di un falso gregoriano nel secolo IX: l'Ep. IX, 148
di Alberto Ricciardi
pagine: 15
€ 6,00
Abstract ∨
This contribution examines the genesis and the diffusion of an interpolated letter, the Ep. IX, 148, ascribed to Pope Gregory the Great. The forgery was realized in the environment of the papal Curia during the council that took place in Rom in 769. The letter had two different purposes: proving, by appealing to the authority of Gregory, the legitimacy of the images' veneration and the possibility to reintegrate in the primitive honor the priests guilty of some crime. In the following decades, the transmission of the manuscript of the forgery mainly occurs across the Alps, while the text of the letter – destined to converge into the corpus of the Pseudo-Isidorian decretals – is included both into the Penitentials of Hraban and in the controversy between the archbishop Hincmar of Reims and his nephew, the bishop of Laon.
RASSEGNE
Le congregazioni monastiche dei secoli XI-XII in Italia meridionale: nuove ricerche
di Donato D'Amico
pagine: 29
€ 6,00
Francesco d'Assisi e la Chiesa romana. Pubblicazioni recenti
di Marco Bartoli
pagine: 14
€ 6,00
Il primo volume del nuovo Jaffé (Regesta pontificum Romanorum)
di Agostino Paravicini Bagliani
pagine: 6
€ 6,00
«Cum Baptista Iohanne eremi secreta petiit». A proposito del Corpus Coelestinianum
di Felice Accrocca
pagine: 12
€ 6,00
RECENSIONI
Recensioni
Abstract ∨
Ambrogio Autperto, Sermoni mariani. Introduzione, testo, traduzione e commento  a cura di Massimo Bini (Rocco Ronzani) p. 209 – Storia della diocesi di Piacenza, vol. I, Guida alle fonti, t. I, Archivi e biblioteche di Piacenza, a cura di Luca Ceriotti - Michela Giuranna - Ivo Musajo Somma - Anna Riva; t. II, Repertorio delle pubblicazioni dal 1870, a cura di Luca Ceriotti; vol. II, Il Medioevo, t. I, Dalle origini all'anno Mille, a cura di Pierre Racine; t. II, Dalla Riforma gregoriana alla vigilia della Riforma protestante, a cura di Pierre Racine; vol. III, L'età moderna. Il rinnovamento cattolico (1508-1783), a cura di Paola Vismara; vol. IV, L'età contemporanea. Dal tramonto dell'Ancien Régime al Concilio Vaticano II, a cura di Annibale Zambarbieri (Elena Conca) p. 212 – Silvia Carraro, La laguna delle donne. Il monachesimo femminile a Venezia tra IX e XIV secolo (Maria Teresa Brolis) p. 216 – Le carte della chiesa di Sant'Eufemia dell'Isola Comacina (901-1200), a cura di Patrizia Merati (Marco Papasidero) p. 219 – Registrum Petri diaconi (Montecassino, Archivio dell'abbazia, Reg. 3). Edizione e commento a cura di Jean-Marie Martin - Pierre Chastang - Errico Cuozzo - Laurent Feller - Giulia Orofino - Aurélie Thomas - Matteo Villani (Cristina Carbonetti Vendittelli) p. 220 – Les officialités dans l'Europe médiévale et moderne. Des tribunaux pour une société chrétienne, Actes du colloque international organisé par le CERHiC (Troyes, 27-29 mai 2010), dir. V. Beaulande-Barraud - M. Charageat (Arnaud Fossier) p. 224 – Pierluigi Licciardello, Un vescovo contro il papato: il conflitto tra Guido Tarlati e Giovanni XXII (1312-1339) (Rino Modonutti) p. 231 – Mauro Tagliabue, San Giovanni Battista del Venda (Padova). Un secolo di storia monastica (1350-1450) tra albi e olivetani (Fabio Cusimano) p. 233 – Franco Cardini, Andare per le Gerusalemme d'Italia (Marco Papasidero) p. 241 – Jonathan Molinari, Libertà e discordia. Pletone, Bessarione, Pico della Mirandola (Valerio Del Nero) p. 244 – Matteo Al Kalak, Il riformatore dimenticato. Egidio Foscarari tra Inquisizione, concilio e governo pastorale (1512-1564) (Elisabetta Patrizi) p. 247 – Angelomichele De Spirito, Alfonso de Liguori. Vescovo a forza e moralista geniale (Miriam Turrini) p. 252 – Antonio Menniti Ippolito, Il Cimitero acattolico di Roma. La presenza protestante nella città del papa (Jacopo De Santis) p. 255.
BIBLIOGRAFIA